Bakery
Romano's bakery department features homemade and freshly cooked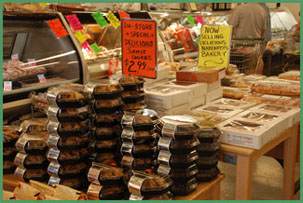 food for any occasion. We have everything from sweet cookies, to baked bread. Whether it's to satisfy your "sweet tooth" craving, or complement a meal with a delicious side item, our bakery has it all. Our bakers have years of experience preparing food and baking delicious items such as these:
Fresh For You
Amish Pies
Freshly Baked Cookies
Fresh Breads & Rolls
Pies
Zucchini Bread
Muffins
Nut Rolls
Poppy Seed Rolls
Assorted Kuchens
Coffee Cakes
We carry Michael's European Bakery and Narducci's Bakery.
Stop in and treat yourself to our homemade bakery!