Prepared Food
Hungry but have no time or energy to cook? Stop by our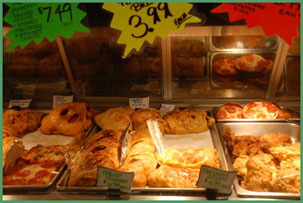 prepared food section where we have ready-to-go meals that will satisfy that hunger. Our cooks work constantly to prepare fresh food for our customers. We keep steady heat on our food to ensure that the meals are always warm. Whether it's a fresh baked pizza, or crisp fried chicken, Romano's prepared food has you covered.
Fresh For You
Pizza Slices
Calzones
Stromboli
Fried Chicken
Pizza Bread
Pasta
Chicken Wings
And More!
We carry Michael's European Bakery and Narducci's Bakery.
Stop in and treat yourself to our homemade bakery!